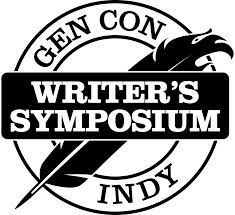 My GenCon schedule is now finalized, complete with the times I'll be joining the friendly folks at the Paizo booth in the Great Hall.
I know I've said this in public before, but it bears repeating. GenCon itself is great fun and the Writer's Symposium is one of its best kept secrets. There are hours and hours worth of panels on great topics that should be of interest to writers (and readers), with guests that range from talented semi-professionals to seasoned and famous industry leaders, like Lou Anders, Patrick Rothfuss, Mary Robinette Kowal, Scott Lynch, Brandon Sanderson… I could go on and on. To top it all off, things are well-run and organized. Last year was my first year to be involved with the symposium and I had such a fine time that I've enthusiastically recommended it to many friends, and decided to attend GenCon for all all four days so that I could participate more fully.
If you're in the neighborhood, I hope you'll stop by, and if you're already coming, I hope you'll swing by the rooms in the convention center where the symposium is under swing.
Here's my schedule. Some of the names on the panels below may change depending upon the schedules of the other participants, but I think this is mostly accurate.