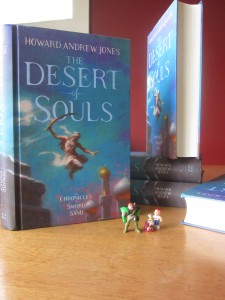 Last week I received the newest version of The Desert of Souls from my UK publisher, Head of Zeus. It's a little smaller in height than the American version which gives it a slightly greater heft. I think it's a pretty snappy look, and it's always a pleasure to receive a box of your own books.
Note below that Mighty Max, Norman, and Virgil showed up to admire the books as well.
In other news, Justin Landon of Staffer's Book Review seemed to dig my first Paizo Pathfinder novel, Plague of Shadows. Amongst other compliments, the one that brought me the biggest smile was "by its conclusion I feel that Jones could write a sporting goods shopping list and I'd be riveted." You can find the whole thing here.
I don't often have a sporting goods shopping list, but I could send him a copy of my supply list the next time I head to the lumber yard prior to fence repair. I'm guessing he'd find it less riveting than he supposes. Although, given the kinds of stuff I'll be picking up, I suppose he could say that I "nailed it." Hah!