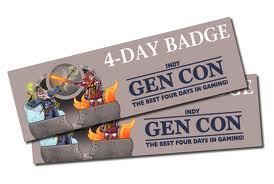 I returned from my whirlwind trip to GenCon late Saturday night. The four days of GenCon  aren't long enough to see and do everything, which means that the one day I was there didn't give me a chance to really do the convention justice at all.
Still, I met (or re-connected with) a whole slew of interesting people.
Before I get into any recounting, I want to pass on my pleased impression about the GenCon staffers. There was some mild confusion about where my badge was supposed to be. When I arrived at the GenCon hall twenty minutes before I was scheduled to appear on a panel and my badge couldn't be relocated, staff member Rik DesChain personally escorted me to the panel to make sure that I could get to where I needed to go, then marched off to sort out the matter with the missing badge.