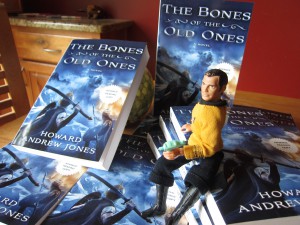 The advanced reader copies of The Bones of the Old Ones are here!
And there was much rejoicing. My great feeling of satisfaction and contentment upon holding the actual ARC is here portrayed by this Captain Kirk Mego action figure.
Soon, very soon, the contest winner will be announced, and copies of the book will be heading out for review…
Meanwhile, I am still working the bugs out of this new web site setup. It's getting better, but my posts are apt to be a little shorter for the next few days. Right now the thing that's driving me nuts is that NONE of my italics seem to be working, so all book titles now appear as regular text. I'd also like all the font sizes in body text to be a little smaller. I have asked for help, so I hope to be able to make corrections soon.