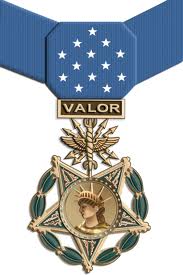 I had planned a series of articles this week about research and the writing process. But if you're a writer, you must write, and today I found myself applying the Dr. McCoy test to ask whether I was a writer, or a blogger.
And then, of course, there's the fact that I'm contemplating talking about heroes all this week. I don't think there are any archives of heroism that could exceed the records of Medal of Honor recipients. If you want to find stories of real heroes, I urge you to visit the Congressional Medal of Honor site any time you think the world is only grim and dark and that everyone is out for themselves.
The text that follows is ALL © Copyright 2012 Congressional Medal of Honor Society. But the heroics belong to Lucian Adams. I picked him at random from the archive page of the web site. You can find equivalent tales about real life figures by clicking on any one of the names on the site. Many of the stories are likely to move you to tears. I urge you to visit. Marvel at their accomplishments and think of them any time someone sneers that there are no heroes. Honor their achievements, their sacrifices, and their memory.